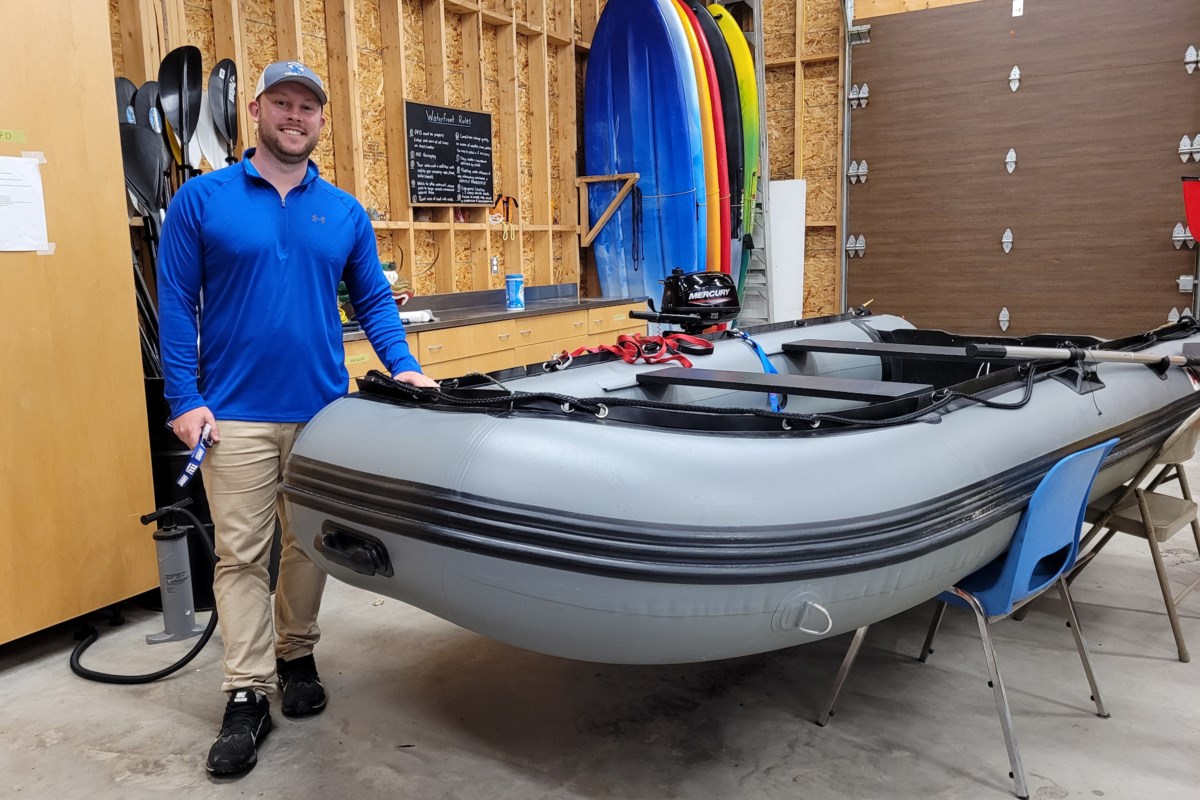 Waterfront Adventure Center will open on Tuesday (14 photos)
Tennis, pickle ball and beach volleyball courts plus stand up paddle boards, kayaks, canoes and now bikes available for members or for rent
The Sault College Waterfront Adventure Center opens Tuesday for its first full summer season, said Phil Dittburner, waterfront and recreation supervisor.
Stand-up paddleboards, kayaks, and even the rescue boat seem almost eager to get out on the water after seeing little use since the center opened after a thorough renovation in 2019.
It closed for the season in fall 2019 and COVID kept it closed for the summer 2020 season. In summer 2021 it opened for limited use under strict COVID safety guidelines and Dittburner said he was also very well received by the students and other members.
"We brought in international students who learned to kayak and stand-up paddleboard," Dittburner said. "There were lots of laughs, happy people coming out of the water when it was all over for the day."
Although the center is free for Sault College students, memberships are also available to the general public and there are also walk-in rates for facilities.
The center has tennis, pickle ball, and beach volleyball courts available to members and students or at hourly rental rates.
Watercraft such as stand up paddle boards, kayaks and canoes are also available for Sault College students and other members to use or rent by the hour or for half a day.
New this year will be bike rental. Currently, one bike is in the center and five more are expected to be available for pickup soon.
Also new this year will be the Beach Volleyball League competition with eight teams registered so far and morning fitness classes will be held outside on the patio.
"We've had a really good response to beach volleyball and expect more teams to sign up," Dittburner said.
Also on site at the Waterfront Adventure Center is a dining room with a fantastic view of the river. Currently, seating is only available indoors, but once umbrellas and tables are delivered, another 100 people will be able to sit outside and grab a bite to eat when not cycling, not play on the courts or on the water.
"We also have a partnership with Marconi Hall for food," Dittburner said. "If people call ahead or order when they get here, we can have the food they order here and ready for them when they come out of the courts or the water."
The former RYTAC Center was bequeathed to the college by the Dr. Lou and Mae Lukenda Charitable Foundation and its refurbishment and renovations were funded in part by generous donations from supporters.
"We're always looking for more support," says Dittburner. "We plan to launch a fundraising campaign later this summer."
He said they were considering repairs and improvements that would be needed to open another tennis court at the center.