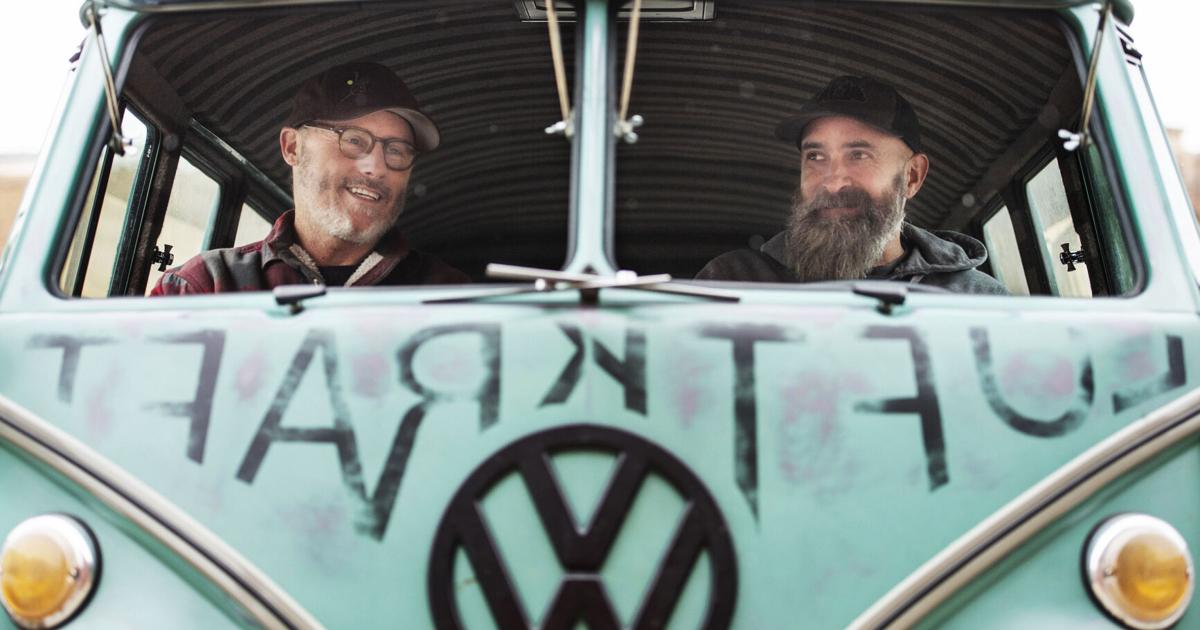 Tiny Colorado Springs shop shows growing love for vintage Volkswagens | Way of life
He knows not to drive the bus if he's in a hurry.
It's not that the ride lacks speed or smoothness, but those aren't the main reasons to ride this green machine either.
Something else is slowing Kris Godwin down. Attention. The constant horns, waves, smiles and rapid exchanges of a car stopped at a red light. As soon as he stops, at least one conversation begins.
"I can't take this thing anywhere without having questions about it," Godwin said. "You keep that in mind if you're going to drive it."
Other vintage Volkswagen drivers can relate to "the amount of people's reactions", as Roger Young put it.
"You can see their expressions change. I think people are impressed when they see them," said Young, a member of the local Volkswagen group called Pikes Peak Air Coolers. "We call it collecting smiles."
Godwin drives his VW bus at least once a week to work or for something fun to do with his two young sons. Responding to the curious is only part of the journey.
Sometimes they want to tell Godwin a story. Their first car was a Volkswagen. Their father drove one for 30 years. They haven't seen one in years. They saw one on TV yesterday.
"Everyone has some kind of Volkswagen memory," he said. "There is something about it. It brings back memories. »
When strangers ask about make and model – it's a standard 1963 Volkswagen microbus – Godwin can guess they want to know more than that.
Like, how's the mileage and how much is it worth? How did he get it and how many years ago?
Godwin has all the answers and kindly delivers them. Sporting a long grey-spotted beard, the 43-year-old is like your friendly neighborhood Volkswagen magician.
But there is one question, which he often gets, that Godwin wishes he didn't hear so much again.
"When are you going to paint it?"
It makes sense to ask. The exterior of the bus does not look shiny or finished. The paint job looks more uneven and faded, with piercing chunks of gray, than you might expect from a bus Godwin has invested time and money in.
But he knows something that only a real "VW guy" knows. This original paint, although uneven, makes the car more valuable.
"If you painted on it, it would be sacrilege," Godwin said. "That's one of the things that makes the VW community weird. You don't touch the original paint. It's part of the character of the car.
You can play around with other things, like adding a striped wool interior and funky decals or an updated engine. These types of renovations began around 2010, when Godwin spotted the green bus at a neighbor's house.
"It popped up and on a whim I kind of bought it," he said. "Things escalated from there."
Things were already spiraling.
A job in the geospatial industry brought the Canadian to Colorado in the early 2000s. He soon met his wife. He soon felt the urge to quit corporate America, although he didn't know why.
Then Godwin rented a house in Colorado Springs that belonged to a "VW guy".
It's the first time he learns that Volkswagen guys tend to lie. The world of vintage cars is small.
That's how he met Mark Brandt, a former pro cyclist who ran a custom bike paint shop in Colorado Springs. Also a guy from VW.
Brandt has been in the area since 1978, when he moved from Indiana to Divide, where he grew up surrounded by mechanically-minded uncles.
"They were still working on cars and I thought that was so cool," said Brandt, 51. "It stuck with me."
This is how he acquired the craft skills that became his life's work.
"For me," Godwin said. "It was Mark."
While Godwin became a VW guy and learned the ins and outs of renovating his own bus, he found a mentor in Brandt.
"It takes time to get really good at it," Brandt said. "And Kris is a natural."
Brandt had built his career around working with his hands and for himself.
"I'm old school that way," he says. "I think you should be able to fix things instead of throwing them away and replacing them with something new."
It sounded like the kind of life and work Godwin wanted instead of his corporate job.
Working on cars together created a friendship. This opened another door: they started two businesses together, one of which built starter motorhomes, fitting the van life trend.
This endeavor took precedence over what Brandt and Godwin really wanted to do.
For several years now, their eyes have been turning to this path again: the restoration of vintage Volkswagens.
"We're at a point now where we want to enjoy what we're doing," Brandt said. "That's where our heart is."
It's Luftkraft Fabrication, a small custom shop on the west side of Colorado Springs where two VW guys spend their days working, researching, and talking about vintage Volkswagens.
They talk a lot about their different projects, like the one for Young.
"What they do is very rare," he said. "Nobody specializes in these old air coolers. It is a lost art.
Brandt and Godwin talk about it too, how they want to inspire the younger generation to get into the hobby.
And they talk a lot about timing.
"Twenty years ago, these cars weren't so desirable or so expensive," Godwin said. "All of a sudden they're popular again."
The change has happened in the last decade, if not the last five years.
Godwin and Brandt try to follow. The search for Volkswagen is much more difficult. Prices have multiplied.
For example, Godwin bought his Volkswagen bus for about $3,500 about 10 years ago. Today, the same bus can cost $50,000 or more.
"They're harder to find, but we're good at it," Brandt said. "And we love hunting."
The job takes them across the country, hoping the car for sale matches the description online and preparing to drop tens of thousands of dollars in cash on the spot. Their stories, full of road trips, bets, wins and losses, sound like material for a reality TV show.
A few months ago, Godwin bought a 1967 Volkswagen pickup truck that he will repair for family camping trips.
"I just want to make memories there," he said.
Brandt's newest baby is called The Thing, a Jeep-like Volkswagen vehicle adorned with bright yellow paintwork that he found in Cañon City. He'll fix it up to sell it, which probably won't take long.
Young, with Pikes Peak air coolers, also noticed the "explosion of interest" in vintage Volkswagens.
The simplicity of the vehicles and the fact that so many have been made and are available has already attracted enthusiasts.
"That's why you see them staying on the road for years and years," Young said. "The average person can slowly learn to work with it."
But finding a project car is no longer cheap.
"Unfortunately, for people who want to get into the hobby, it's not as accessible as it used to be," Young said. "There are still offers out there, but not a lot."
The love is there, perhaps more than ever, for the cars associated with Disney's Herbie the Lovebug, Woodstock and the Flower Fields.
Brandt says the Volkswagen brand has endured because of its "cool factor." He compares it to Apple.
"You can't know anything about cars," he said. "But if I show you a picture of a Volkswagen Beetle, everyone knows it's a Beetle."
Such pictures would make almost anyone smile. It would make them think of that flower stand or that local cafe, both made from converted VW buses. It would make them think of a memory, a ray of sunshine or signs of peace.
It would make them think of something joyful.
This goes for Godwin.
As he drives his nine-passenger green bus, he feels every bump in the road and hears every creak. There is no radio to listen to or heating to turn on. There is no cruise control to regulate the shifting. But he chooses to drive the bus on long road trips or on a sunny day.
"It takes more concentration to drive," he said. "So it makes you more aware of what's around you. You are more in the moment.
Driving slower makes him enjoy the moment, the kind of thing that's harder to do when you're moving too fast.