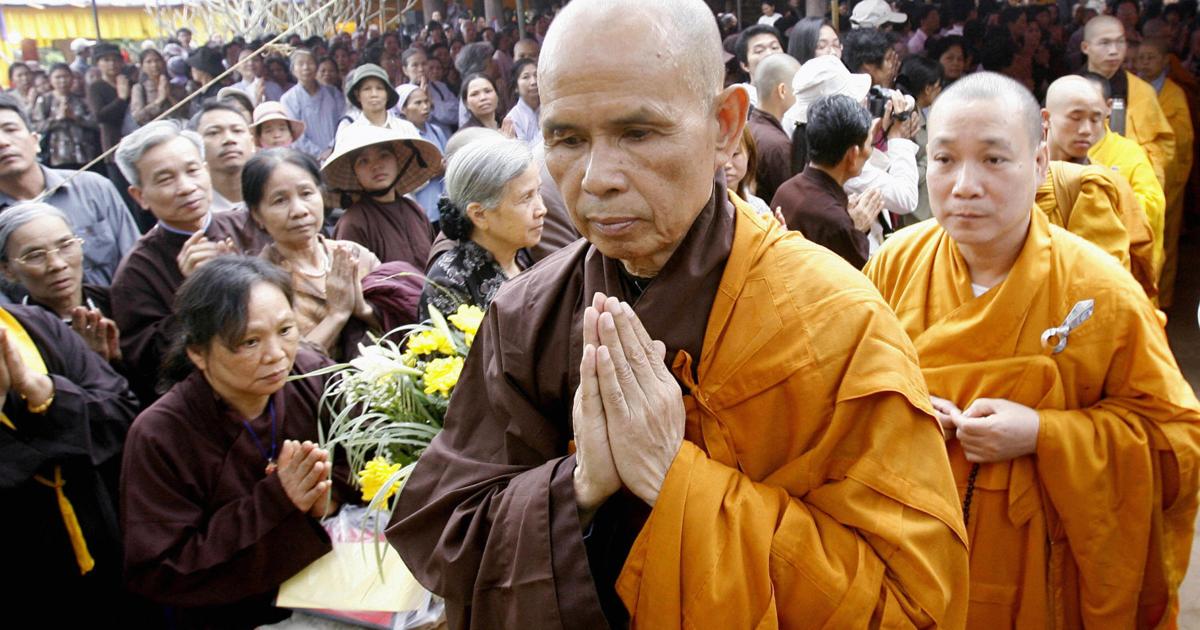 Thich Nhat Hanh, World-Changing Buddhist, Zen Master and Peace Activist, Dies at 95 |
Thich Nhat Hahn, the Buddhist monk whose mindful focus and militant teachings changed the way the world practices Buddhism, died Saturday morning in Vietnam. He was 95 years old.
Thich Nhat Hanh died peacefully at exactly midnight at his Tu Hieu temple in Hue, according to a Facebook post from his account.
Probably the second most famous monk in the world, behind the Dalai Lama, the teachings of Thich Nhat Hanh inspired a whole new school of Buddhism known as the Plum Village tradition. It is practiced worldwide, with the first and largest monastery based near Bordeaux, France.
Thich Nhat Hanh is credited with founding the Engaged Buddhism movement, which focuses on social activism for peace through Buddhist practices and teachings. Never one to honk the horn, Thich Nhat Hanh said Buddhism's idea for social change can be traced to a 13th-century Vietnamese king.
But this man (King Tran Nhan Tong) chose a more private life than Thich Nhat Hanh, whose teachings were so popular that he spoke to presidents and parliaments around the world.
Even after suffering a stroke in 2014 that rendered him unable to speak, Thich Nhat Hanh continued to teach through his words – he is credited with writing 100 books, many of them in English. His Facebook page also frequently shared posts from his past teachings.
Thich Nhat Hanh gained international notoriety for his activism against the Vietnam War, but he was already a well-known monk before his international peace efforts.
Born on October 11, 1926 in Hue, Thich Nhat Hanh joined Tu Hieu Temple as a novice at the age of 16. He quickly worked to adapt Buddhist practices to everyday life and he was one of the first monks to ride a bicycle.
Thich Nhat Hanh taught at Princeton and Columbia in the early 1960s, touring the world in a doomed attempt to promote a peaceful solution in his native country. The term "engaged Buddhism" comes from his book "Vietnam: Lotus in a Sea of ​​Fire".
In 1966, Thich Nhat Hanh spoke with Martin Luther King Jr. about the war and encouraged King to oppose it. Shortly after, the civil rights icon did just that in a famous speech from Riverside Church in New York City.
"We combined our efforts to work for peace in Vietnam and to fight for civil rights in the United States," Thich Nhat Hanh later wrote. "We have agreed that the real enemy of man is not man. Our enemy is not outside of us. Our real enemy is the anger, hatred and discrimination that lies in the heart and the mind of man.
But Thich Nhat Hanh's calls for peace have made him an enemy of North and South Vietnam.
Both countries denied him the right to return to his homeland and he spent 39 years in exile. During this time, Thich Nhat Hanh built the plum village tradition around the world, spreading his message of activism through Buddhism.
He was finally welcomed home in 2005 and again in 2007, drawing crowds of thousands for speeches on both trips. In 2018, he came back for good.
"He came back to where he grew up as a monk," his follower Phap Dung told Vox in 2019. "The message is to remember that we didn't come from nowhere. We have roots. We have ancestors, we are part of a lineage or a current.
Upon news of their founder's death, the Plum Village website reiterated one of Thich Nhat Hanh's teachings: "Because we have seen the way, we have nothing more to fear."
———