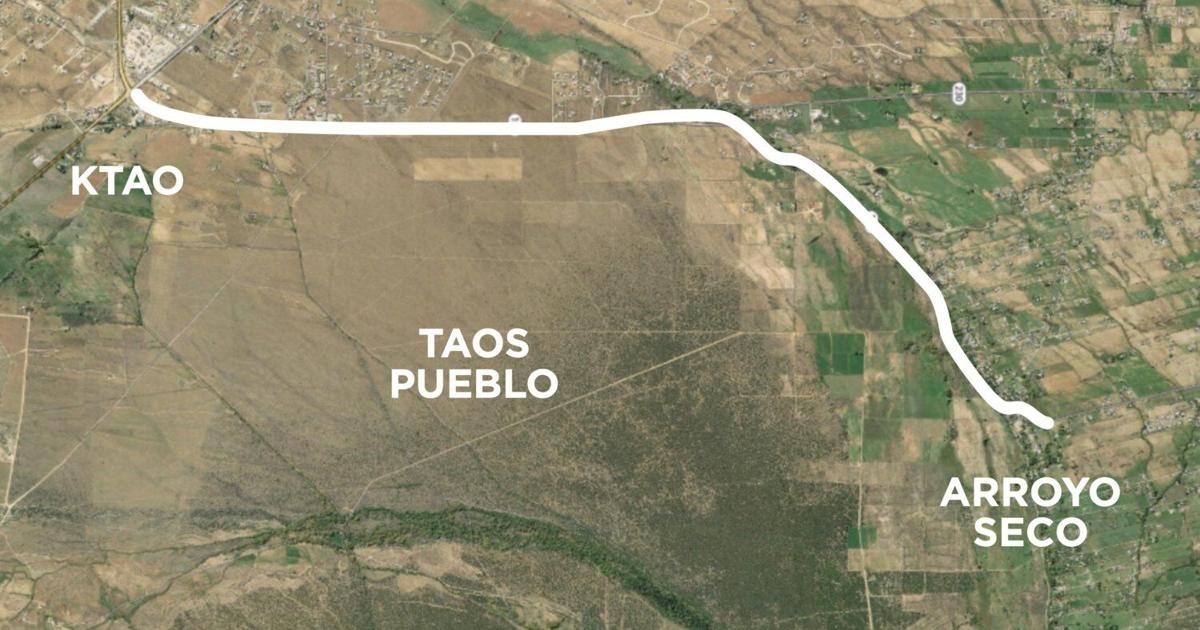 Proposed walking-biking trail for SR 150 | Local News
A proposal that hit social media circles on Wednesday (January 12) created local buzz about a possible 4.5-mile trail for cyclists and hikers connecting the Old Blinking Light intersection with Arroyo Seco along the State Road 150, aka Taos Ski Valley Road.
The proposal, championed by the Enchanted Circle Trails Association (ECTA), is only in discussions at this point, but has moved forward bit by bit with news that the group is in talks with Taos executives. Pueblo, whose sovereign land abuts the road along its eastern edge. . "We are pleased to report that the Taos Pueblo Tribal Council has authorized ECTA to approach the New Mexico Department of Transportation to modify the right-of-way easement along NM 150 from the parking lot in front (the station of radio) KTAO to Arroyo Seco," the ETCA Facebook post read.
Taos News caught up with Carl Colonius, one of the trail association's founders and a key figure in his efforts to lay similar trails across the region, as he awaited tribal approval to run a press release on the project.
Colonius is a 20-year veteran of the Rocky Mountain Youth Corps (RMYC). He said the proposed bike path is a "project that has percolated for just under a decade. In fact, I offered this to the tribe in 2012-13 when I was still at (RMYC). This was one of a few projects we were hoping to do to help spur the development of a regional trail plan. The reason it wasn't going anywhere with the tribe at the time, he said, was because it was "too complicated."
Coincidentally, the Enchanted Circle Trail plan also includes the controversial Talpa Ridge Trail System east of Taos Town. Development of this trail hit a brick wall last summer when residents near its entrance said hikers and mountain bikers were invading their privacy. To date, residents have erected a gate to block the entrance to the trail while the city and ECTA work on a way to reopen it.
The Enchanted Circle Trails plan is, by any standard, a massive undertaking, involving countless meetings, numerous public contributions, and contact with many agencies. Ultimately, the trail system would traverse mountains and communities from Taos to Questa, the Rio Grande, and across the aforementioned Talpa Ridge.
"ECTA and the (Taos Pueblo) Tribe anticipate that this project will inspire community members to become more physically active, improve public health, and connect community members to the natural world and to each other," the release reads. ECTA press. "The trail is an important link in a regional trail network and will hopefully inspire other government entities to prioritize trail development."
While the press release highlights the benefits of the trail as one that "can further stimulate economic activity in businesses associated with the use of the trail, such as bike shops and equipment stores, but also restaurants, cafes, grocery stores, camping, hotels, guide services and more," the Taos News asked Colonius if trail users would be more likely to be outdoor recreation enthusiasts, tourists, and visitors rather than premises.
"I assume, like most local trails, locals will use the trail," he said. He suggested users could be from local areas such as Des Montes, Valdez, El Salto who want to get to Taos using public parking at the Old Blinking Light intersection where State Roads 150/522 and US 64 meet. . "But, it also has the potential to be a destination where people could park in that state parking lot at the Old Blinking Light and walk or push a stroller or bike to Arroyo Seco to visit the shops. , get an ice cream or a burger, then come back. This makes it an attraction for visitors to the community.
To critics, Colonius said he would point to the Enchanted Circle Trails plan, which, according to public comment, highlighted the need for more opportunities to get people outdoors for recreational activities. "People really felt that walking and biking in Taos Town was very important," he said, "but when pointing to a specific route, the flashing light connection to Arroyo Seco was the number one priority for the locals."
Now for the big question: how will it be funded?
"Funding is still undetermined," Colonius said. "There are all kinds of COVID response funds pouring into the city… Governor Lujan-Grisham recently issued a call for capital spending projects for communities that rely on tourism. Back to your question: is this only a benefit for community visitors? I do not think so. But, if we can capitalize on funds from this source, it is certainly something we cannot look away from.
Then there's this: the speed limit along State Road 150 is 55 miles an hour, and anyone who's driven on that road during rush hour has had to deal with drivers who drive much faster quick. But despite the danger, some cyclists still cycle along this route. This, Colonius said, makes having a separate paved trail on the side a much safer alternative. "The trail is as far from the platform as possible within the right-of-way," Colonius said.
In 2014, Colonius presented the project to the Taos Pueblo Tribal Council and received a list of questions to answer, according to the ECTA press release. "From 2014 through 2021, the project was regularly reviewed with the Taos Pueblo Warchief and Governor's staff. A community survey was conducted with members of the Taos Pueblo community in 2017; more than 86 percent of tribal members surveyed strongly supported the development of a trail at this location and believe it would be a benefit to the tribe and surrounding communities. A Tribal Land Use Application was drafted for the project with input and modifications from the Taos Pueblo Land Office. »
Here are some of the questions posed to ECTA by tribal leaders, along with their responses:
Will there be any cost to the tribe for building this trail?
No. Resources for the trail will be sought from federal, state and private foundation sources.
Will the trail fit into the right-of-way?
The existing freeway easement is 40 feet from the center line, providing a corridor of approximately 30 feet from the edge of the road to place the pathway. If the trail is 8 feet wide, with 1 foot shoulders, this 10 foot trail footprint fits easily into the right-of-way.
Is there a legal liability to the tribe if this easement is granted?
No Liability: New Mexico law (NMSA 1978, § 17-4-7) exempts landowners from liability for allowing free public access to recreational trails.
Is there a cost to the tribe for maintenance?
Maintenance responsibilities would be carried out by community volunteers, possibly through the ECTA Adopt-a-Trail program.
Will the trail bring unwanted trespassers to tribal lands?
Improved border fencing and clear signage will deter non-tribal members from breaking in.
Will the trail prevent landowners along the route from building homes on tribally allocated land?
No, the trail design can accommodate driveway crossings and actually improve access for tribal members who have been given assigned property by replacing utilities and incorporating driveway aprons.
Does the New Mexico Department of Transportation have plans to expand State Route 150 that would impact the trail concept?
There is no indication that NM DOT plans to widen State Route 150.
Will the trail impede traditional Taos Pueblo use of this area?
Horses will be able to travel alongside the trail, as the trail would only take about 8 feet, leaving 15-20 feet for traditional use.
Will this increase roadside litter and litter?
Establishment of trails is documented to increase litter picking tendencies.
Now it's up to NMDOT to review the proposal.
To learn more about this project, call Colonius at (575) 770-8940 or the Taos Pueblo Tribal Secretary at (575) 758-3883.