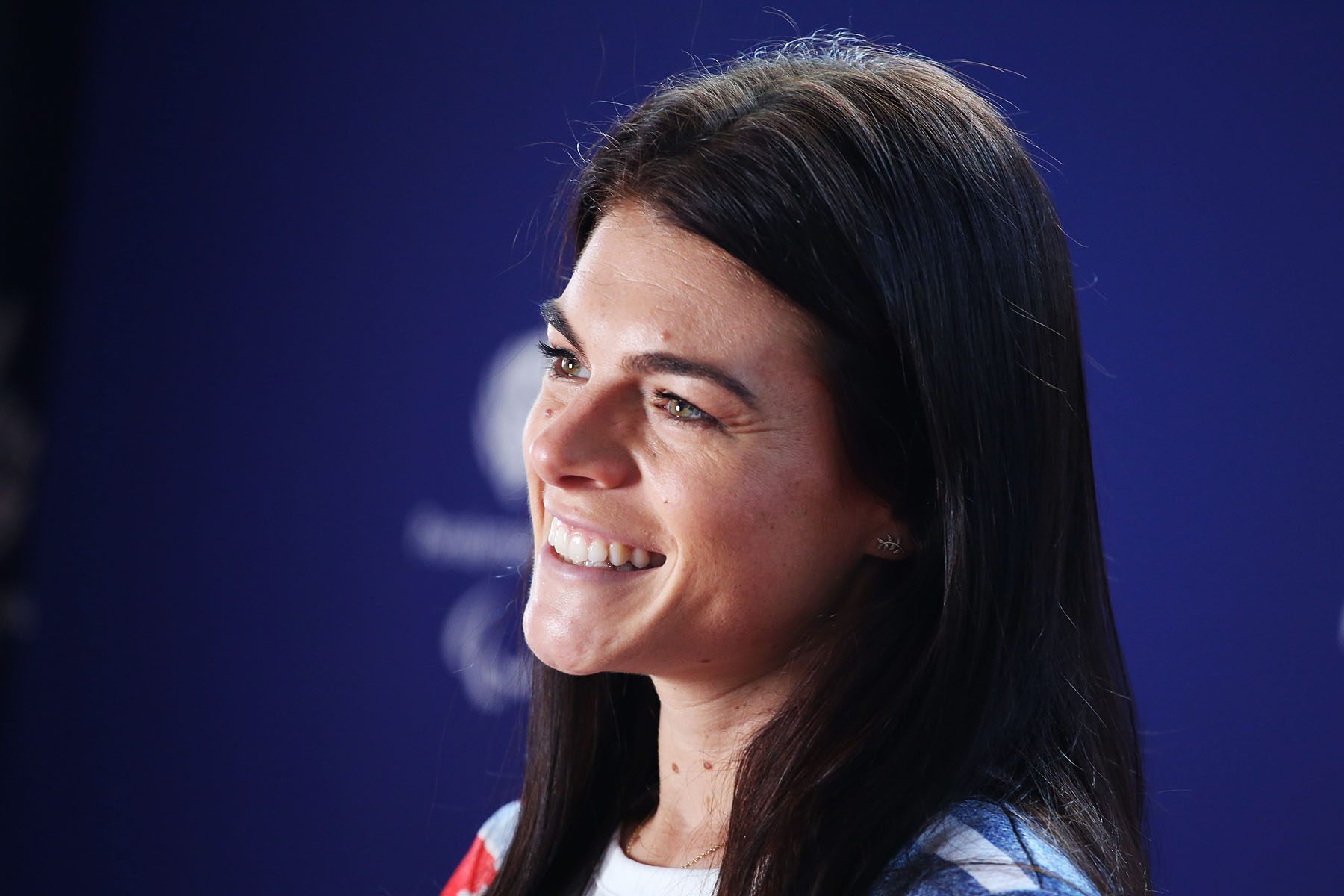 Lauren Steadman talks about the Paralympics, sports broadcasting and representation
Following a years-long trend in elite parasports, a record number of women competed at the 2022 Paralympic Games, which wrapped up on Sunday. This year was also one of many firsts for the way the Paralympic Games were covered. In the United States, the entire games were shown for the first time. And in the UK, a groundbreaking team of disabled sports broadcasters covered the Paralympic Games.
Ahead of the Paralympic Games, The 19th spoke to Lauren Steadman, one of two women on Channel 4's UK sports broadcast team. Steadman was born with a congenital limb difference – she was born without a large part of his left arm. Steadman, a veteran Paralympian, was just 15 when she won her first silver medal in swimming at the 2015 Paralympic Games in Rio de Janeiro. Most recently, Steadman won a gold medal in the triathlon at the 2020 Summer Paralympics. the British equivalent of "Dancing with the Stars", in 2018.
The 19 spoke with Steadman about the Paralympic Games, sports broadcasting and representation in those two worlds.
This interview has been edited for length and clarity.
Lutermann: You are part of the first fully disabled presenting team for Channel Four in the UK. But it's not the first time you've presented.
Steadman: At the Summer Games, I was there as an athlete voice to give my perspective and interview some of the other guys after the race. But that's all so far. I finished my race on Sunday, and on Monday I was live on TV [sportscasting]. The first few days were a bit of a blur, because I was trying to get out of that really regimented athlete mindset and be in the media where you're bubbly, you're happy, you ask the right questions. It took a while, but I managed to find the rhythm.
Lutermann: How has UK television coverage of the Paralympic Games changed from when you started watching to now?
Steadman: He has changed drastically. When I went to Beijing… there was nothing on television at all. I don't think people knew or really cared about it in the UK. Then came London. Because it was a home game, people were especially excited about the Olympics. Everyone was pretty depressed after the end of the Olympics. They were like, "Oh, here we go, but wait a minute, we have the Paralympics! All our rooms were full. They were packed with people who hadn't been able to see the Olympics, so they went to see the Paralympics.
I think Channel 4 has also done a fantastic job of explaining disability. They gave a more comprehensive understanding. On our televisions, on the sides of buses, on the sides of planes, buildings, Paralympians suddenly started to appear. It started the conversation.
Lutermann: When was the first time you saw someone who looked like you in the media? Do you remember?
Steadman: No, actually. I think the first time I really noticed someone else with an arm was when I went to my first swim meet. I didn't really know about the Paralympic Games until I went to a local swimming club. I was then probably 9 years old. Not that I lived a sheltered life. I come from a small village. My parents, why would they know the world of disability?
I went to this local disabled swim meet. And it was this whole pool full of disabled people. In fact, it was a bit intimidating for a person with a disability to look around and say, "Oh, wow, there's like a whole other world here.
It made me feel more accepted. As a teenager, I was kinder to myself, I didn't try to hide my arm. I was proud of the fact that I am an international swimmer. I've been to the Paralympics, I need to own who I am, because I'm not going to grow an arm overnight.
Lutermann: Sports broadcasting in the US and UK is overwhelmingly male. Do you feel like it's something you had to come up against?
Steadman: Doors are opening for women. They can actually enter this area. In the UK in particular, we've seen Clare Balding do a fantastic job, we've seen Alex Scott enter the world of football and people absolutely love him. A friend of mine, Amy Fellows, just covered the Winter Olympics. I think again, it's just a change in dynamic.
Lutermann: Your job is to be an athlete, which most American Paralympians aren't.
Steadman: [American Paralympic athlete Grace Norman] decided to become a part-time nurse again simply because it took that pressure off. I work on commercials, which allows me to really relax because I have very good partner brands. I'm not quite sure I could live off what British sport is giving now, but just because I'm 29. I'm not 18 anymore. I have more expenses and my Netflix is ​​a must every month.
I think the world is changing. And [Norman has] signed some great sponsors this year, which I also think American para-athletes haven't always had access to – it was the Olympians. I feel like you covered your veterans very well when they entered the sports world.
Lutermann: Let's talk about inspirational porn. Can you tell me what this sentence means to you?
Steadman: Are people with disabilities inspiring? Yes. I just think sometimes we get a little caught up in the fact that we think people call us inspirational because we have a disability and not because of what we've achieved. If I had two hands and was the same caliber of athlete that I am now – damn, I'm inspiring!
Personally, I'm not offended. I say "thank you", because I worked hard. I hope there are young girls in the world who have thought, "Wow, I want to be like Lauren." I inspired them. I encouraged them.
I understand it is used too frequently now with Paralympic athletes. I think it's just due to a lack of vocabulary and people not knowing what words to say. You could say this person is uplifting, defying their own standards, challenging the world to be better, to do better to be fierce. I think if we use different words [than "inspiring"] it makes people look at Paralympians differently.
Lutermann: The way we talk about the Paralympic Games has changed as people have a better idea of ​​what the Paralympic Games are and what it means to participate. Are there any commercials or other performances that you think were particularly great?
Steadman: So I worked with awesome brands. Citibank has supported me over the last cycle – their campaign is "It's OK to Stare". I've been watched all my life. Children say: "Mommy, she has an arm!" You can see the parents saying "don't say anything". I hated it when I was a kid. And then I got to the point where I felt so sorry for the parent. So I would walk up to the kid and say, "Can you guess how I lost it, then?" And then they're like, "Oh, is this a game? How does she lose her arm?
[Like if] I broke a world record – watch me because I deserve to be watched.
Lutermann: Do you have any thoughts on the role of the Paralympics in disability policy?
Steadman: I think you're always going to have it and you're not going to be able to please everyone. Moreover, people learn by experimenting.
I think this could have been the best TV moment of the last year. There was a deaf dancer on our version of "Dancing With the Stars". She dances every week without music. But for the public, when they watch TV, they hear the music when they see her dancing. But one week they paused the music for about a minute. She just kept dancing. I think that was when she probably won the show. Because people realized all those weeks that she had been dancing without any music. People probably thought it was next to impossible, but she proved it wasn't. So, for me, the best thing that can happen is for people to see for themselves what it's like to live in a different way.
Lutermann: Do you think there needs to be more progress in how people understand the Paralympic Games compared to the Olympic Games?
Steadman: People just assume that if you have a disability you automatically make it to the Paralympics. And actually, it used to be, because there weren't a lot of people doing it. But it's not like that now. What it took to get a gold medal all those years ago, compared to what it takes now, is 100% different. The dedication, the time, the effort to get Paralympic gold today isn't the same as it was all those years ago when you could just tip because you're probably the only one around half the world that was going to race.
When I train and climb the mountain [on my bicycle], say there is a pack of men in front of me. I love to ride and pass them. You get to the top and they think, "Oh my God, that girl just beat me." And then when they walk into the cafe and they see me take my prosthesis out – they're like, "Oh, my God. She has one arm and she just beat me. It shows you the caliber of athlete going to the Paralympics. Because in fact, they hadn't realized it until then.
When I swim in the pool, all these people say, "You are inspiring. But then they see me swimming. This morning a guy said "Wow, that was fast." And I said "Yeah, I know."