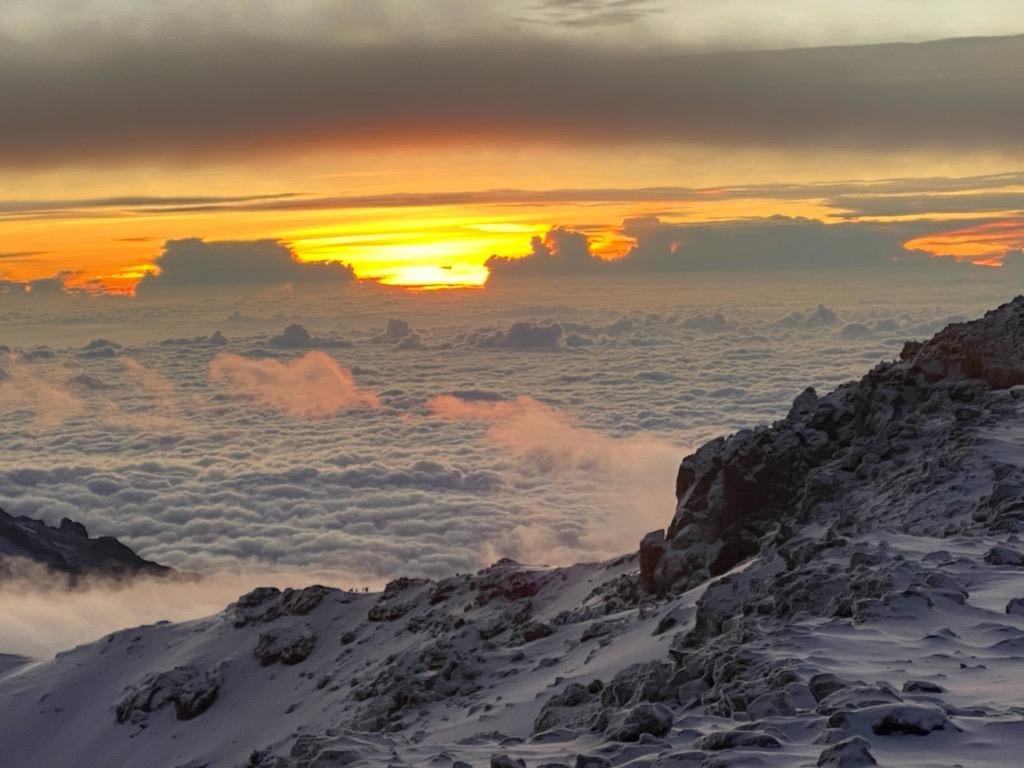 Las Cruces man climbs Kilimanjaro in second triumphant ascent
By Mike Cook
"My mind has become very calm. I just had a moment of total peace.
This was the experience of David Hill, owner of Ride On Sports of Las Cruces, a few weeks ago, as he stood atop Mount Kilimanjaro, the world's tallest autonomous mountain.
Hill and his guide, Salim, began the last part of their trip at midnight on Thursday, December 9 in blizzard conditions with 4 inches of snow on the ground, emerging from the clouds as they peaked at sunrise in the weather. of 5 degrees.
"It was amazing," Hill said.
It was also redemption.
The climb was Hill's second attempt to reach the top of the 19,341-foot stratovolcano. On his first ascent, in January 2019, Hill broke his leg at 16,000 feet and had to be carried off the mountain by Salim.
"You're leaving this time," Salim told Hill on the second climb.
Salim, a native of Tanzania and a professional guide, has climbed Kilimanjaro about 250 times, Hill said.
Hill suffered a tibial plateau fracture when he improperly planted his leg on their first ascent together.
He spent four months on crutches and eight months in rehab before he could resume walking and hiking. It took a year before the 62-year-old could resume trailering. With nine pins in his leg, Hill spent the next two years in training, scaling mountains in New Mexico, Colorado, Texas, Utah and Arizona as he prepared to conquer "The Mountain." greatness ", as Kilimanjaro means in Kiswahili.
The prep work included trekking the Needle in the Organ Mountains six times in four months, Hill said.
"It was a perfect workout," he said, as the needle is steeper than any other mountain he has climbed.
Hill's return trip to Kilimanjaro was "kind of a group effort," he said. It included family and friends – David Doctor, surgeon from Las Cruces, Denise Campbell, owner of Southwest Sport and Spine Center, Dustin Brandon, training partner and Hill's brother-in-law, Brad Murray.
Murray was on the 2019 ascent with Hill and reached the summit, but initially did not share any of his summit photos with Hill.
"When I was ready to go, he sent me the photo," Hill said.
Hill said he has heard from a number of people in person and online who were "in awe" at his determination and triumph.
"I'm glad I inspired some people," he said.
Hill said he started hiking when he was 46.
"I looked at myself in the mirror one day and was getting fat," he said.
He started trail running at the age of 57. He can run six hours at a stretch, but he always does it slowly.
"Speed ​​and David are not equal," Hill said.
"I went out for solitude," he said. "I act best when I get home."
Hill's love for rock climbing, hiking, walking, running, and biking is part of the reason Hill bought a bicycle business in 1989 and later added outdoor equipment.
At Ride On Sports, 2001 E. Lohman Ave., Hill said he would help others "find the right thing to do" and provide them with the equipment they need.
After Kilimanjaro, Hill said he plans to climb Mount Whitney in California in the spring and do a Grand Canyon "edge to edge" run in late May. And it will continue to climb all around Las Cruces.
There are at least "30 Quality Hikes" from A Mountain to Organs, the Doña Ana Mountains, the Robledos, Picacho Peak and several trails through the Organ Mountains-Desert Peaks National Monument.
"We live in the best place in the world," Hill said.
Visit @kilimanjarojourney on Instagram and www.rideonsports.com.