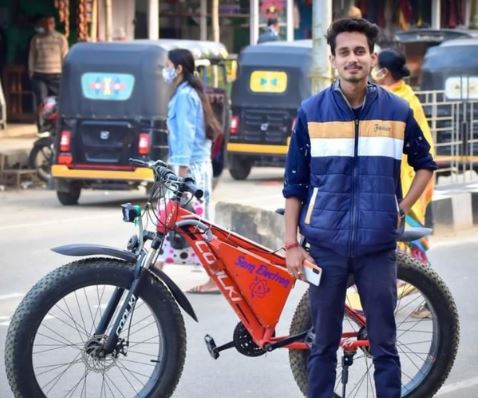 Karimganj Boy Designs 'Anti-Theft' E-Bike That Travels 60km On A Single Charge » News Live TV » Assam
Guwahati: An Assam Rifles ITI Technology student has developed an electronic bicycle (E-bike) equipped with modern sensors and tracking systems, making it "anti-theft".
The e-bike was developed by 19-year-old Samrat Nath from Karimganj district in Assam, and it's powered by lithium-ion batteries recycled from old laptops.
Samrat made this possible after four years of hard work.
According to news agency ANI, the e-bike is expected to offer a range of 60 km on a single charge and a top speed of 40 km per hour.
Samrat invented the smart electric bike to escape theft. The electric bike comes with many safety features.
"If someone tries to steal my bike, a message will appear on my smartphone and the bike's anti-theft alarm will start ringing," Samrat told ANI.
He also said he can control this bike from anywhere in the world using the app.
He further added that he also installed a fingerprint feature to add extra security to his bike.
Samrat said he had the idea to develop such an e-bike while studying in class 8 when his uncle's bike was stolen.
Speaking to The Better India, Samrat said he has watched countless YouTube videos to learn about the workings and systems of an e-bike.
"I didn't have the money to buy these expensive devices. So I started learning to code on YouTube and learned how to create an electric circuit for an electric bike. To fund the project, I started working at a local mobile repair shop," he added.
With his savings, Samrat bought a bike and spent Rs 25,000 to build an anti-theft electric bike.