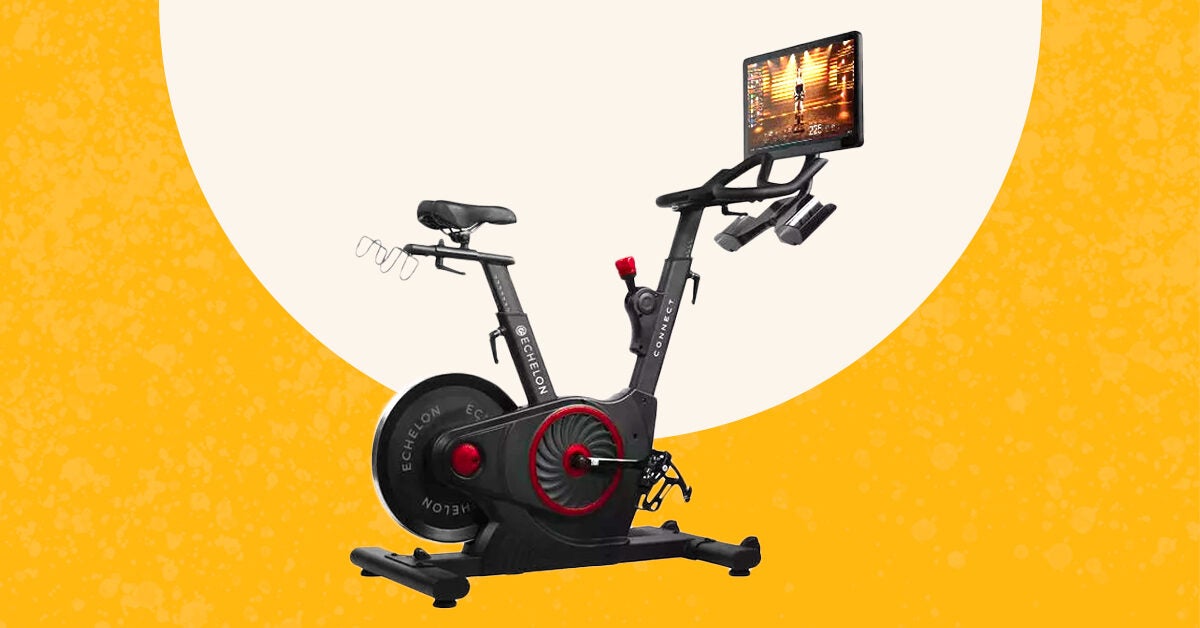 Echelon EX5s Bike Review: 2022
One piece of gym equipment that many people choose to include in their home gym is a stationary bike. It allows you to do a great cycling workout whatever the weather. And with exercise apps, you can take studio-style cycling lessons from home any time of the day.
If you've started researching exercise bikes, you might have come across the Echelon EX5 and wondered how it measures up.
This article takes an in-depth look at the EX5, including its key features, how to set it up and how to use it, how it compares to other smart exercise bikes, and more.
Echelon Fitness was founded in 2017 in Chattanooga, Tennessee. The company has partnered with celebrities such as Mario Lopez and Pitbull to promote its products and add additional entertainment options to its app.
Echelon produces treadmills, rowing machines, fitness mirrors and exercise bikes. The Echelon Premier app gives subscribers access to live and on-demand classes, and Echelon plans to add Netflix, Hulu, Disney+ and Samsung streaming options soon.
While most Echelon bikes don't have built-in displays, the Echelon EX5s stands out from other models because it has a touchscreen. Otherwise, this bike is very similar to the EX5, although it has a few extra features such as charging ports for your phone or tablet.
The Echelon EX5s is available in two versions, one with a 10-inch (25.4 cm) touchscreen and another with a 22-inch (55.9 cm) touchscreen.
Both versions measure 58 x 21.5 x 61 inches (147.3 x 54.6 x 154.9 cm) and weigh 124 pounds (56.2 kg), making the EX5s a bit larger and heavier than the EX5.
The EX5s has a maximum recommended user weight of 300 pounds (136.1 kg) and offers 32 levels of magnetic resistance that you can change with a resistance knob.
The bike is recommended for riders 4ft 11in (150 cm) to 6 feet 4 inches (193cm) tall, but riders ranging from 4ft 5in (134 cm) at 6 feet 8 inches (203cm) claim to have used Echelon bikes.
Like the Echelon EX5, the EX5s is highly adjustable – the handlebars and seat can move forward, backward, up and down. It also features a competition-style vented seat that can be raised or lowered to suit user height and preference.
Additionally, the bike's pedals offer both SPD-compatible clips and toe cages.
For longer workouts, the bike has two water bottle holders. It also has two dumbbell racks that can hold 2-pound dumbbells, which are sold separately.
Plus, you can charge your phone or tablet using the bike's charging ports.
Echelon EX5s with a 10-inch (25.4 cm) screen sell for $1,799.99 but often go on sale for $1,199.99. Financing options are also available, starting at $26 per month.
The 22-inch (55.9 cm) screen version of the Echelon EX5s costs $1,999.99 but often goes on sale for $1,499.99. You can also choose to pay monthly for as low as $32 per month.
Both bikes include a 12 month limited parts and labor warranty. For an additional fee, you can purchase a longer, more extensive warranty that will cover any repairs needed due to electronic issues or normal wear and tear.
Shipping typically costs $99.99, and home delivery and installation costs $198. If you purchase a 1- or 2-year Echelon subscription, shipping is often free.
In addition to the cost of the bike itself, a Premier Echelon membership is required to make a bike purchase through the brand's website.
You'll get 5 user profiles, 40+ daily live classes, thousands of on-demand class options, plus access to live leaderboards and a huge library of workout music.
A monthly subscription to Echelon costs $39.99 per month. For a one-year subscription, $399.99 is billed annually, which equals $33.33 per month. Currently, a 2-year subscription for $699 is the best deal, as that equates to $29.16 per month.
The Echelon EX5 comes with an assembly guide that includes color pictures and a written description for each step. Most reviewers agree that the process of assembling the bike wasn't too difficult, but you may need to allow yourself a few hours.
As mentioned, the EX5 measures 58 x 21.5 x 61 inches (147.3 x 54.6 x 154.9 cm) and weighs 124 pounds (56.2 kg), so it's smaller and lighter than the Peloton Bike+ and the NordicTrack s22i.
Like other smart bikes, it doesn't fold, so you'll want to factor its full size into your space needs.
Although the EX5s does not have an automatic resistance control option that allows your trainer to adjust the resistance of your bike for you, it is easy to change the difficulty of your workout using the knob. of resistance.
Being able to adjust both the handlebars and the seat forwards, backwards, up and down means you can share the bike with people of different heights and heights. Plus, you'll be able to find a custom fit that works best for you.
Dual-sided pedals allow you to ride in cycling shoes if you have them, or you can wear regular racing or training shoes.
Choosing to wear regular sneakers can make it easier for you to get into some off-the-bike exercises like strength training or high-intensity interval training during your workout.
Since it has an integrated display, the Echelon EX5 is perfect for those who enjoy virtual training classes and a more immersive riding experience than some of the more basic Echelon bike models can offer.
For those who like to ride without class or prefer the additional applications offered by their own tablet, the Echelon EX5s could be a more expensive bike than necessary. The Echelon EX5 has almost identical features at a reduced price because it doesn't include the screen.
Echelon Fitness is a popular alternative to brands such as Peloton and NordicTrack. That said, customers sometimes find it difficult to get help from customer service when their equipment has malfunctioned or when they want to change their payment plan.
Echelon has a C+ rating from the Better Business Bureau, which reports 378 closed complaints with the company over the past 3 years (133 over the past 12 months).
Wondering how the Echelon EX5 compares to similar exercise bikes? Here's a quick overview:
What is the difference between the Echelon EX5 and the EX5?
The Echelon EX5 includes a 10 or 22-inch (25.4 or 55.9 cm) touchscreen, while the EX5 requires users to provide their own smart device if they want a display. The EX5 is also a little bigger and heavier. Otherwise, the two bikes have nearly identical specs.
Can you use the Echelon EX5 without a subscription?
Yes, you can use Echelon EX5 without a subscription. You will need to use the Freestyle section of the app. You will be able to see your stats, but you will not be able to save them in the progress area. For additional courses and features, you will need to pay for the subscription.
That said, it's important to keep in mind that you must purchase an Echelon Premier subscription if you choose to purchase the Echelon EX5s. You will therefore have to cancel your subscription later to use the bike without a subscription.
Can you watch Netflix on the Echelon EX5?
The Echelon EX5's touchscreen isn't designed to display Netflix, but Echelon plans to add Netflix, Hulu, Disney+, and Samsung streaming capabilities.
If you want to watch Netflix while you work out, you can buy the Echelon EX5 and stream Netflix on your own tablet or wait until these features are available in the Echelon app.
Whether the Echelon EX5s are worth the price mainly depends on how much you want a touchscreen.
If you don't plan to use the bike often or prefer to use your own smart device for streaming lessons, the Echelon EX5 has nearly identical features for a significantly lower price.
However, if you are looking for a rear flywheel exercise bike with an integrated display, the EX5s may be a good option.
Get started with Echelon
Interested in trying Echelon? We can help!
Easily compare the models below to find the one that's right for you.