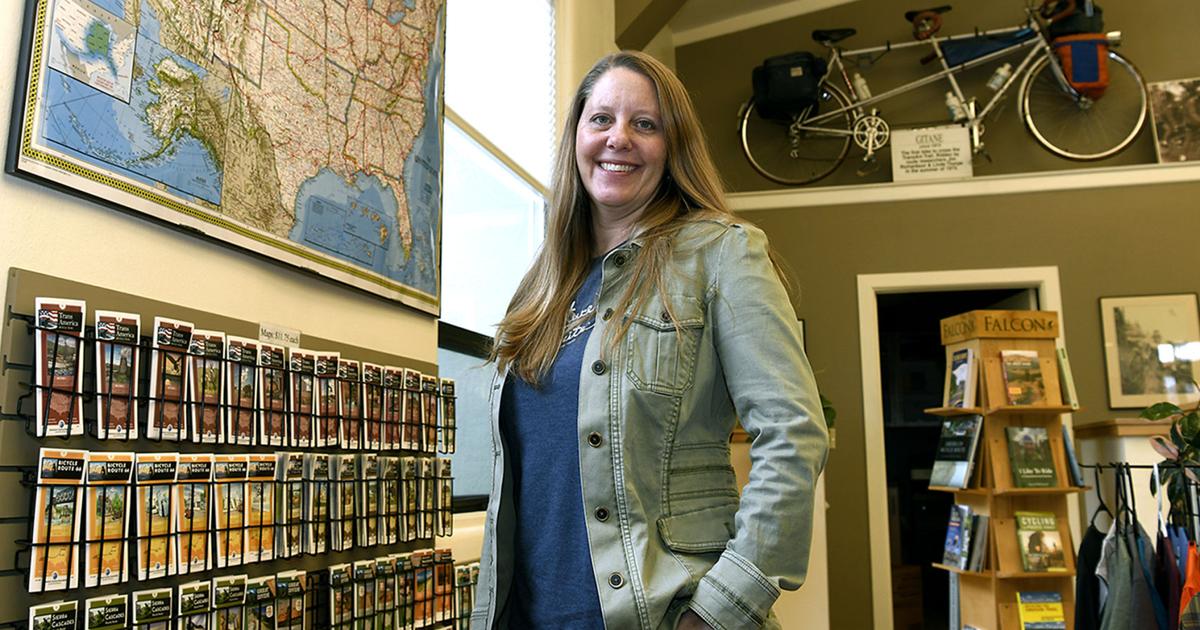 Adventure Cycling Announces New Executive Director | Local news
The largest bicycle touring organization in the United States, based right here in Missoula, has a new leader.
Jennifer O'Dell has been appointed Executive Director of the nonprofit Adventure Cycling Association. She joined the organization in April as director of marketing and now succeeds Scott Pankratz, who served for 20 months during the pandemic disruptions.
"Our mission is to inspire, empower and connect people to travel by bike," O'Dell explained from the downtown office on Tuesday. "We have training, tours, resources, tools and programs to really help people learn to buy gear and to travel. We sell maps, we sell materials, and we have tours and other programs like that.
The organization has professional guides who lead people on routes all over the country. They also operate a full service sales organization with a glossy magazine. People can buy seat covers, lights, brackets and any other bicycle accessories under the sun.
With a workforce of around 40, as well as seasonal and remote workers, Adventure Cycling is a large downtown employer and attracts many tourists to the area each year.
There was an explosion in bicycle sales across the country during the pandemic, and now more people are seeking advice from experts at the O'Dell organization on how to safely ride. They interact with approximately 250,000 people per year.
"People call and say, 'Now I have a bike, what am I doing? "And we give them ideas and tools for the trips they can take," O'Dell explained.
The organization was founded over 50 years ago with the mission of inspiring people to take great journeys across the country. Nowadays, a lot of people are interested in shorter weekends or overnight trips.
"So we are working on routes and resources for that as well," she said.
Prior to moving to Missoula with her husband from Arkansas, O'Dell worked in the consumer goods, e-commerce and fitness industries. She lists top brands like Hershey Company and Sunny Delight Beverages Co. on her resume. She attended college in Oregon and enjoys mountain biking, hiking, cooking, watching live music, and driving her kids to sporting events.
"I am delighted to step in to lead the Adventure Cycling Association as we accelerate our efforts to make our mission relevant to many more people," said O'Dell. "Our leadership team is energized, unified and committed to our bold vision to create a much larger and more inclusive bike travel community. "
It's the people that make the organization truly effective, she said.
"Adventure Cycling is fortunate to have a mix of longtime staff and new hires who strike a good balance of stability and enthusiasm, and I'm proud to have their support," she said.
The organization will focus on an initiative called Bike Overnight in 2022. It includes preparing DIY resources that will be available online for anyone to take their first road or bike tour. The initiative aims to prepare travel itineraries near major cities and connect people with experts who can advise on two to five day itineraries. The overall aim is to provide advice and support to novice cyclists in order to create cycling travel opportunities for people of all ages, backgrounds and levels of experience.
"We are delighted that Jennifer is assuming the role of Executive Director," said Joyce Casey, chair of the association's board of directors. "She brings a collaborative leadership style and thoughtful management, and has already helped us define our strategy to bring the joy of cycling to more people. We look forward to what the future holds for Jennifer and Adventure Cycling.